Bunting,
Leave me alone, quit posting comments on my WP blog, you must have gotten your cash from AIM/US Govt to continue CYBER stalking/harassing Boyden & I.
It will not serve either to continue.
richardboydenreport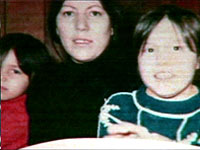 Annie Mae Aquash RAPED AND MURDERED BY AIM..2 members convicted
Bellecourt, Banks, Trudell and Absourek agreed to MURDER Aquash
Nice SATANIC PENTAGRAM Clyde!
Fake Punk Ass "Indian" MURDERER OF INNOCENTS being complicit in the MURDER and RAPE of Annie Mae Aquash, MURDER of Black Man Perry Ray Robinson and 12 others at Wounded Knee in 1973. Convicted of selling 5000 HITS OF LSD to Native Youth and others. He needs to be tried and hung. Makes CUSTER look good because Custer never claimed to be a INDIAN! Russell Means…GANG RAPIST! I know of TWO women he raped. Murdered Jancita Eagle Deer……among OTHERS!
CLICK EACH LINK
ANYONE who believes these MURDERERS is not American Indian any more then they are!