| | |
| --- | --- |
| New post on The Last Great Stand | |
| | |
| --- | --- |
| | |
In a lot of ways, the Black Lies Matter crowd are like a fly that just won't leave the picnic table on a gorgeous 4th of July cookout. If only there was a fly swatter big enough. Unfortunately for law abiding, hard working, sane Americans, this menacing group is a fly with a very thick wallet, since they are funded by Geroge Soros. In the first video, Sheriff David Clarke locks horns with Marc Lamont Hill over the validity of the 'Black Lies Matter' movement in a heated debate. 
Sheriff Clarke, who probably needs no introduction, sums up what much of the country probably wants to say about the Black Lies Matter group but doesn't, presumably out of fear, which is that they are nothing more than "a vile vulgar slimy movement." Marc Lamont Hill on the other hand probably does need an introduction. Unless you associate with Marxist sympathizing uber liberals, you'd have no reason to know Mr. Hill. On his own website he graciously refers to himself as "one of the leading intellectual voices in the country." You can be the judge on which of the two men seems more like a leading intellectual voice in the country.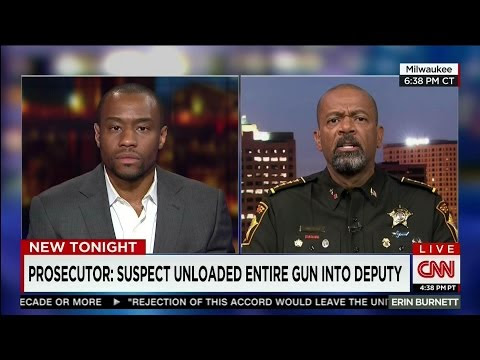 SUBSCRIBE TO  THE TOP STORIES OF THE WEEK IN THE NEWSLETTER HERE
FOR MORE NEWS BY VOICE OF REASON CLICK HERE!
In the second video, Fox News brought on its favorite sheriff, David Clarke, to take on what he called the "subhuman creeps" in the Black Lies Matter movement. Fox & Friends host Brian Kilmeade argued that activists protesting police brutality in New York City over the weekend were a "slap in the face" to the NYPD because an officer had been recently murdered. Clarke insisted that demands to end abuse of force were just "crazy talk." 
"That's ignorance in its purest form," the Wisconsin sheriff opined. "They're not protests. Those people advocate for the overthrow of our legally constituted government."
WELL SAID SHERIFF…
FACEBOOK | GOOGLE+| TWITTER | PINTEREST | STUMBLE UPON | TUMBLER
CHECK OUT THE NEW GOOGLE+ PAGE!
"Social justice" to the American left has nothing to do with justice and everything to do with hate and revenge.
A thug with a criminal record tried to help a woman who police officers were apprehending escape from custody.
The woman was getting arrested for allegedly assaulting a restaurant owner and skipping out on the bill when Jasmine Richards, an organizer with Black Lives Matter, violently interfered with law enforcement.
Richards was found guilty on Wednesday by a Pasadena, California, jury of attempted "lynching," a felony under California law and is facing four years in state prison.
This rarely used charge refers to when a person tries to remove someone from police custody.  The crime of lynching historically refers to the practice of when a white lynch mob takes a black person out of the custody of the police for the purpose of extrajudicially hanging them.
Richards is the first African-American ever tried on the charge.
From Breitbart:
Jasmine Richards is a militant black lesbian activist with a long history of political clashes with law enforcement. Richards was part of the Ferguson, Missouri, riots and was arrested in April of 2015 on two outstanding warrants for terrorist threats, assault, trespassing, and petty theft.
Breitbart News exclusively interviewed the owner of the shop where the original incident allegedly took place, and the details reveal a great deal about the racist motivation of Black Lives Matter.
The owner, who did not wish to be identified for fear of her safety, is a Hispanic woman who runs a restaurant that was across the street from where Black Lives Matter was demonstrating.
The owner told Breitbart News that a young black woman who was not connected with the protest came into the restaurant and demanded she be given a drink without paying full price. After being told she needed to pay for the drink to get it, the young black woman became angry and eventually physically assaulted the restaurant owner, hitting her on the head.
The restaurant owner says she and other workers attempted to restrain the woman and called the police. At that point, the young black woman started to leave the restaurant to avoid the police. On the street in front of the restaurant, the woman assaulted restaurant employees again, striking them with a cell phone.
At this point, the restaurant owner said, Black Lives Matter protesters from across the street began to get involved. They asked no questions about what was going on, but immediately sided with the black woman against the Hispanic restaurant owner and her employees.
The owner says she was shocked that the activist would immediately come to the defense of the woman without knowing the situation. After that, police arrived, a chaotic scene was created, and activist Jasmine Richards got involved.
https://player.vimeo.com/video/138159522
The fact that Richards and the woman she tried to stop the police from arresting broke the law is irrelevant to Black Lives Matter leaders and supporters. They insist she is a political prisoner.
FACEBOOK | GOOGLE+| TWITTER | PINTEREST | STUMBLE UPON | TUMBLER
FOR MORE NEWS BY VOICE OF REASON CLICK HERE!
SUBSCRIBE TO  THE TOP STORIES OF THE WEEK IN THE NEWSLETTER HERE
FACEBOOK | GOOGLE+| TWITTER | PINTEREST | STUMBLE UPON | TUMBLER
Activists Shaun King argued in a Daily News column that Richards' "prosecution and conviction are not truly criminal; they are political."
Black Lies Matter activists want to be treated fairly by the law, unless they are guilty of breaking the law. Then they want special exceptions, because being held accountable for unlawful actions is so racist, so unfair.
A victim mentality has allowed BLM type groups to thrive and Democrat leadership provokes and exacerbates this victimhood mentality.  People of all races have done terrible things to each other since the beginning of time. Seeking revenge for what happened decades or centuries ago only making us slaves to hatred.
Black men kill each other with terrifying regularity in communities across the country.
The violence in Chicago on Memorial Day weekend helped lead to thedeadliest May in 21 years for the city.
"From Friday evening to the end of Monday, 64 people will have been shot in this city of 2.7 million, six of them fatally," the New York Times reported Saturday. "In a population made up of nearly equal numbers of whites, blacks and Hispanics, 52 of the shooting victims are black, 11 Hispanic and one white. Eight are women, the rest men. Some 12 people are shot in cars, 11 along city sidewalks, and at least four on home porches."
Black Lives Matter protesters are nowhere to be found on the streets of Chicago demanding justice or revolution in light of these slayings. This is a political movement that engages in intimidation, rather than truth.
PROTECT YOUR FAMILY BEFORE THE CRASH!
STOCK UP ON FOOD SUPPLIES WHILE THERE IS STILL TIME!
SUBSCRIBE TO  THE TOP STORIES OF THE WEEK IN THE NEWSLETTER HERE
SEE HOW OBAMA HAS FANNED THE FLAMES OF RACISM:
Obama Legacy: Toxic Race Relations, Social Unrest, And Collapse Of The System
Black Lives Matter Do The Unthinkable To War Heroes Graves
Chief Agitator of "Black Lives Matter" Movement is Actually a White Sociopath
Black Lesbian Judge Refused To Perform Straight Marriages – No Gestapo? (Video)
Minorities Now Want Safe Spaces "No Whites Allowed" 
Obama Lit The Fuse in Ferguson and Baltimore 
Holder's Department of Injustice Caught Funding Cop Killer Rap Video
Valerie Jarrett In Touch With Gov. Nixon During Ferguson Fiasco
Farrakhan Calls For VIOLENCE to 'TEAR' the Country Apart 
Rioters: "You Will Never Be Safe – Not You, Not Your Children!"
NO HOLDER – 13 Year-Old Gets Gang Raped By 10 Illegal Immigrants
FACEBOOK | GOOGLE+| TWITTER | PINTEREST | STUMBLE UPON | TUMBLER
GET SOME GREAT GEAR FROM THE LAST GREAT STAND!
http://www.zazzle.com/utl/getpanel?zp=117676214612231717
Browse other gifts from Zazzle.
FACEBOOK | GOOGLE+| TWITTER | PINTEREST | STUMBLE UPON | TUMBLER
SaveSave
SaveSaveSaveSave
SaveSave
SaveSave
SaveSave