http://watch-unto-prayer.org/astrotheology.html
http://watch-unto-prayer.org/astrotheology.html
http://www.jesus-is-savior.com/False%20Religions/Wicca%20&%20Witchcraft/astrology_is_satanic.htm
BEYONCE, SATANIC JAY & ALEISTER CROWLEY 666'S VEILED SATANIC SEX MAGICK AT THE 2014 GRAMMY'S
13 02 2014
The January 26, 2014 56th Grammy Awards was far more flagrantly Satanic then I had envisioned.Katy Perry's Grammy "Dark Horse" performance is widely recognized as a Satanic Rite and "Open Witchcraft and Satanism on Display."[1]
I watched "Pops Golden Boy" Bruno Mars halftime 2014 Super Bowl performance. Satanists identify and connect the color gold to "royal" bloodlines.Gold is called the metal and skin (God RA) [2] of the gods, but to the Anunnaki, menstrual bloodwas the "gold of the gods."[3]
LiL Wanye and Bruno Mars, Mirror on the Wall, A Ceremony of Blood
Nevertheless watching Mars' Super bowl halftime performance, I couldn't understand or make out much of the words of his songs, particularly"Locked Out of Heaven."
"Never had much faith in love or miracles …
But swimming in your water is something spiritual
I'm born again every time you spend the night
Cause your sex takes me to paradise …
Cause you make me feel like, I've been locked out of heaven
For too long …
Open up your gates cause I can't wait to see thelight…"[4]
"Locked Out of Heaven" is a veiled reference to a "Fallen Angel" locked out of Heaven- Lucifer.
"How you have fallen from heaven, morning star, son of the dawn! You have been cast down to the earth, you who once laid low the nations! You said in your heart, 'I will ascend to the heavens; I will raise my throne above the stars of God; I will sit enthroned on the mount of assembly, on the utmost heights of Mount Zaphon. I will ascend above the tops of the clouds; I will make myself like the Most High." Translation of Isaiah 14: 12-17[5]
Bruno Mars, Classic MK UTRA Mind Control Animal (Sex Kitten) Pattern (BEAST)
Even though, I didn't consciously understand the names or words of his songs, Bruno's halftime performance had been implanted in my"subconscious". "Your sex takes me to paradise "has been properly exposed to be another veiled Satanic reference and implant. It is a reference to British Satanist Aleister Crowley, the Great BEAST 666, and exposed as a flagrant subliminal "Sex Magick Promotion."[6]  Beta Sex Kitten Programmed Beyonce and Rosicrucian– Satanic Jay opened the 56th Grammy Awards with a performance of "Drunk in Love." Their performance wasn't so blatantly understood by most people to be open witchcraft and Satanismon display.
"Rose, my dear, you filthy whore, would you be ever so nice as to do a magick ritual with me today?" –the BEAST, Aleister Crowley[7]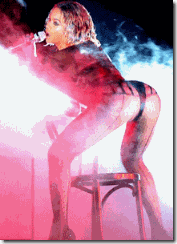 "Drunk in Love" introduced Beyonce's new MK ULTRA Sex Kitten alter personality "Yoncé",above, that is far more "FILTHY", erotic, perverse and lustful than Demotic Sasha Fierce.
"I've been drinking, I've been drinking
I get FILTHY when that liquor get into me …"[8]
You must not ever forget that Beyonce and Jay Zare dedicated Advanced Crowley(es),demonologists and vehement occultists. Almost everything they do is deeply steeped in secrecy, rooted and embedded in hidden ILLUMINATI/Satanic and Rosicrucian symbolism. "Drunk in Love" like Bruno Mars "Locked Out of Heaven" is a veiled subliminal reference to "Fallen Angels,"Aleister Crowley, and another flagrant "Sex Magick Promotion."
Satanic Jay- Beholden to the British Empire and Grand Lodge of England
There should be little to no doubt that Satanic JayZ is a Prince Hall Freemason placed in a higher classic "House Negro- Scottish Rite" secret hierarchy like Dr. Conrad Murray than most lost brothers of the false craft.
These certain House Negroes are exposed to a selective amount of privileges, and so-called secrets of the craft than most Prince Hall Negromembers. But again, it is a very secret selective amount of their "truths."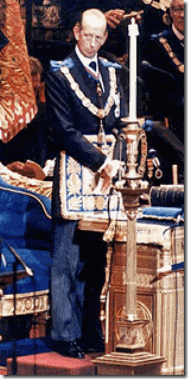 Prince Hall Freemasons are subservient members of the Grand Lodge of England.[9] Queen Elizabeth's first cousin, Prince Edward, Duke of Kent, above, is the 10th Grand Master of theUnited Grand Lodge of England, the governing body of Freemasonry in England and Wales. He has served in that office since 1967, thus being the longest lasting Grand Master.[10] Satanic Jay'sblood covenant with the ILLUMINATI is layered by the deadly Masonic Blood Oath of Secrecy sealed by a secret allegiance to the British Crown, and theGrand Lodge of England– Prince Edward, Duke of Kent . Satanic Jay Z's loyalty is not to the so-calledHip Hop Generation, or any People's struggle. He is a secret pawn to the Britain Empire's racial genocidal policies (Caliban Agenda), Her Majesty Queen Elizabeth II and the queen's cousin. Prince Edward, Duke of Kent is a ruling member of theILLUMANTI and the Committee of 300.[11]
Satanic Jay & Olympians
The Story of the Committee of 300 (1992) by John Coleman, describes the Committee – also known as the Olympians [Greek Gods]– as a secret society of aristocratic Satanists, and identifies them with the Bavarian Illuminati, and Dionysian mysteries.[12] The transmigration [Divinity] of the soul is largely believed to have been inherited byPythagoras from the Orphic and Dionysianmystery cults that had long preceded thePythagorean Brotherhood.[13]
The ancient Greek historian Plutarch (46 BC- 120 AD) states, "Osiris is identical with Dionysus," and the Cult of Osiris/Dionysus that began in Greece is believed to have had its origins with the ThebanHercules,[14] the Great Sen-Wos-Ret, "Son of Wosret [Hathor],"[15] (1971 BC to 1926 BC), the second Pharaoh of the Twelfth Dynasty.[16]
the Great Sen-Wos-Ret- Sesostris I
The central secret ruling ideology of the oligarchy's "Divine Order" ordained by the Gods to rule the world is shrouded in mysteries, and the mythology of Osiris/Isis/Horus. The British Empirehas maintained global power within the royal families for generations by ILLUSIONS, deception; and veiled perversion of the Theban royal "Divine"ruling dynasties' secrets, sciences, ideologies, mythologies and cosmologies. Throughout the ages, they are still known by Justice, Balance, Order and Peace, their Splendor, good works to Civilization and MANKIND.[17]
One of the Olympians' most reverenced High Priests of the Dionysian Mysteries had beenBritish Secret Agent 666 Aleister Crowley, the Great BEAST that was used by British intelligence as a spy, for experiments in mind altering drugs, behavior modification and (CIA/MK ULTRA) mind control.[18]
The Committee of 300 was founded by British aristocracy in 1727. It is an international council that organizes politics, commerce, banking, media, and the military for centralized global efforts- the New World Order.[19] The  is an important and controlled part of the Committee of 300.[20]
Beyonce, Queen Elizabeth I & the Bilderberg Group
Beyonce Knowles and Satanic Jay Z's secret alliance with the British Crown apparently has been extended by the ILLUMINATI much further than random fanaticism with the British Empire, and Satanic Jay's British Masonic blood covenant.
They have been rewarded and inducted into theILLUMINATI to create the ILLUSION of British"Divineness" through its European French royal bloodlines. Researchers claim that their issue,Blue Ivy, to be a 23rd cousin twice- removed from the ancestry of Queen Elizabeth II.[21]
Furthermore on November 5, 2011, during the MTV Voices Dinner during the MTV (MTV Networks Europe) Europe Music Awards 2011 at the Merchant Hotel in Belfast, Northern Ireland,Beyonce was reanimated by the ILLUMINATI in the image and spirit of Queen Elizabeth I.[22]
MTV Networks Europe is a division of MTV Networks International, a subsidiary of Viacom.Sumner Redstone aka Sumner Rothstein akaILLUMINATI is the CEO of Viacom. He is a principal member of the Bilderberg Group or BBGcontrolled by the Duke of Kent and the Committee of 300.[23]
Beyoncé's Queen Elizabeth I's alter was not random. It was created, implanted and fostered by the MK ULTRA/ILLUMINATI.
Re-imaging Beyonce in the persona of the GreatWitch Queen of Maafa (African Holocaust,Holocaust of Enslavement) wasn't enough to insult the masses of color. They went further to turn her into a Dr. John Dee and Edward KelleySatanic Talisman of Fallen Angels on a national/international stage, the 2014 Grammy Awards.
Queen Elizabeth I- Arthurian Elvenfolk (half human- Devil) Witch
John 8:44-45
King James Version (KJV)
44 Ye are of your father the devil, and the LUSTS of your father ye will do. He was a murderer from the beginning, and abode not in the truth, because there is no truth in him. When he speaketh a lie, he speaketh of his own: for he is a liar, and the father of it.
45 And because I tell you the truth, ye believe me not.
Contrary to romanticized versions of the so-called"Virgin Queen," Queen Elizabeth I was a racialistdemoness, witch and Luciferian in her very own right whose court was a den of the occult filled with sorcerers, witches, and conjurers of devils,fallen angels and demons like Dr. John Dee andEdward Kelley.
The House of Tudor claims direct descent fromKing Arthur. Queen Elizabeth I continued theArthurian tradition in the family. The Arthurianancestry of Elizabeth was given especial emphasis at the time of her coronation." WhenElizabeth visited Kenilworth in 1575, an Arthuriancostume party and masque were held. Upon the Queen's arrival, she was met by a woman dressed as Morgan le Fay, who greeted and ritually initiated the queen as King Arthur's heir.[24]
Morgan le Fay was King Arthur's half sister, a powerful sorceress  and infamous Elvenfolk Witchin the Arthurian legend. [25] She is also known as a Druid Priestess, Dark Magician, Enchantress, Sea Goddess, and a Shape-Changer.[26]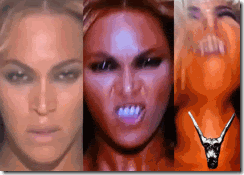 Shape-Changer- Beyonce–Sasha Fierce(reanimated MK ULTRA Morgan le Fay/Queen Elizabeth I)
She was one of the foremost recognized witches of all time. Morgan le Fay literally translates "the morning fairy."[27]
"How art thou fallen from heaven, O Lucifer, son of the morning! how art thou cut down to the ground, which didst weaken the nations!" Isaiah 14:12 (KJV)
In both myth and legend, Morgan le Fay is associated with Lucifer- her right hand man. she is a willing and willful subject for the Lucifer who celebrates her evil: "A will, a horne, a wish, a longing … I never saw a more perfect specimen. Such evil! Such beauty!"
Morgan le Fay invokes Lucifer in ceremonies of veiled deception- duality of the demonic and the divine, the classic Satanic Principle,
"Emperor Lucifer, prays Morgan Ie Fay, down on her knees in the chapel of the convent of the Flaming Heart, ' master and prince of rebellious spirits, I adjure thee to leave thine abode, in whatsoever quarter of the world it may be situated, and come hither to communicate with me. I command and I conjure thee in the name of the mighty living God (Father, Son, and Holy Ghost) to appear without noise and without any evil smell, to respond in a clear and intelligible voice, point by point, to all that I ask thee …'"[28]
In Morgan le Fay's and King Arthur's Legendary Court of Knights, Lucifer, demons and fallen angelswere invoked to walk among humans to shape the power of the British Crown, and the New World Order.
Queen Elizabeth I's Coronation in 1559 had been a revival of the secret and mysterious Old Druid Religion of the Prytani (Picti)- Painted People of King Arthur, and secretly a Luciferian Rite of Initiation and Passage.
The Great BEAST 666, Queen Elizabeth I, Dr. John Dee, Edward Kelley & Enochian (Fallen Angel) Sex Magick
Aleister Crowley's Satanic Ritual Sex Magick is a secret Enochian "Angelic" Ritual Ceremony.[29]The Enochian system of magic as practiced today is primarily the product of researches and workings by four men: Dr. John Dee, Edward Kelley of Queen Elizabeth I's Court, Samuel Liddell MacGregor Mathers (British Founder of theHermetic Order of the Golden Dawn); and the Great BEAST 666 Aleister Crowley.[30]
Dr. John Dee is important. Dee (July 13, 1527–1608 or 1609) was a Welch mathematician, astronomer, astrologer, occultist, navigator,imperialist, and chief consultant to Witch Queen Elizabeth I. He devoted much of his life to the study of alchemy, divination and Hermetic philosophy.[31]
"Enochian" is described as "Angelical", the"Celestial Speech", the" Language of Angels", the"First Language of God-Christ", the"Holy Language", or "Adamical" because, according toDee's Angels, it was used by Adam in Paradise to name all things. The term"Enochian" comes fromDee's assertion that the Biblical Patriarch Enochhad been the last human to know the language below the Great Fall.[32]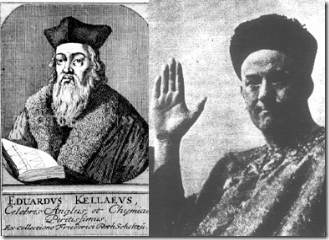 In 1582, Dr. Dee hired Edward Kelley as a medium to help him communicate and consult with spirits. The Great BEAST considered Kelley one of his prior incarnations.[33]
Dee and Kelley used crystal balls and a black obsidian scying (seeing) mirror [34] taken from the Mayans and other civilizations of great antiquity to communicate with fallen angels, spirits and demons.[35] Through their contact with fallen angels, Dee and Kelley were given instructions to create a magical talisman to make contact with them more easily.[36]
According to the Hermetic Order of the Golden Dawn, a talisman is "a magical figure charged with the force which it is intended to represent. In the construction of a talisman, care should be taken to make it, as far as possible, so to represent the universal forces that it should be in exact harmony with those you wish to attract, and the more exact the symbolism, the easier it is to attract the force".[37]
With the help of several angels, Dee and Kelleywere able to compose four elemental tablets containing a hierarchy of specialized angels which could be summoned to the service of the magician.[38]
Enochian Sex Magick involves invoking erotic-occulted paranormal experiences per instructions from Fallen Angels. "Sex Magick" can be done with a Demon/ess." "Sexual fluids, both semen and vaginal secretions and also menstrual blood have the power of Life Forces." –Joy of Satan Ministries, U.S. Library of Congress[39]
"Crowley's sex rituals involving the consumption of blood, semen, or feces were allegedly intended to achieve a higher consciousness to empower atalisman, or to simply empower ones self. Intense focuses on the intended result during the ritual, especially during orgasm, were paramount to achieving the desired goal in Sex Magick. Crowleysaw in orgasm (as in drug experience) a means to create 'breakage of consciousness' by pushing the mind to a point of extreme exhaustion and so opening it the "supersensual.' The technique… was that of excess; through pain or pleasure, sex or intoxication, it was necessary to attain a condition of exhaustion taken to the extreme limit."[40]
Yoncé– the 2014 Grammy's Sex Magick Show & the Scarlet Woman
Lucifer's Color is BLUE [41]
Babalon (also known as the Scarlet Woman, Great Mother or Mother of Abominations) is a goddess found in Aleister Crowley, the Great BEAST 666's mystical system of Thelema. In her most abstract form, she represents the female sexual impulse and the liberated woman; she is also identified with MOTHER EARTH, in her most fertile sense.[42]
At the Grammy's, Yoncé and Satanic Jay performed an erotic piece co-written by Beyonce called "Drunk in Love." Its lyrics express "UNBRIDLED LUST" [43] and ancient phallic-Masonic worship,[44]
I've been drinking, I've been drinking
I get filthy when that liquor get into me
I've been thinking, I've been thinking
Why can't I keep my fingers off it, baby?[45]
"We be all night, and everything alright
No complaints for my body, so fluorescent under these lights Boy, I'm drinking, walking in my l'assemblage …
If you scared, call that reverend
Boy, I'm drinking, INNA bring it right…"[46]
INNA- ANCIENT EARTH MOTHER
INNA generally means EARTH. It is a name associated with the Indian God/Goddess Venkateswara.[47] Lord Venkateswara is an incarnation of Lord Vishnu.[48] The attributes and traits of Enki is synonymous with Lord Vishnu. For instance,
"As the Fish Avatar and Lord of Wisdom, Vishnumust be considered synonymous with Lord Enki. And in fact, one of the incarnations of Vishnu, the Matsya or Fish Avatar is identical with SumerianEnki."[49]
Compare Nin-imma Symbol with Hathor's Symbolic Wig
Nin-imma(Earth Mother) is a Sumerian, Babylonian, and Akkadian fertility goddess and deification of the female sex organs. Her parents are ENKI and Ninkurra. Her name derives from the Sumerian words nin – goddess, and imma – water that created everything. [50]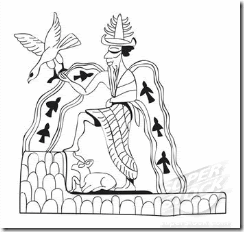 ENKI- Sumerian Deity of Creation, Water and Intelligence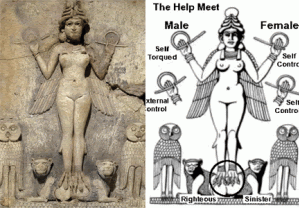 Inanna is the Sumerian Goddess of love, fertility, and warfare. Inanna's name derives from Queen of Heaven (Sumerian: Nin-anna).[51] In Sumerian Mythology, Nin-anna, Nin-imma, and Enki, a son ofAnu, represent the Anunnaki that landed on Earth from a distance solar system called Nibiru in far great antiquity.[52]
In Great Antiquity, Nin-imma is known by many names and spellings mainly Ninhursag (Earth Mother),[53] Ninmah ("Great Queen") and Nintu ("Lady of Birth"). Both Nin-imma and Nin-annatraits are similar to the Kemet Goddess WORSET (Hathor).[54]
"Properly understood, Hathor should be viewed as the Egyptian counterpart of the Sumerian Inanna, the latter goddess being explicitly identified with Venus in the earliest written sources. The fundamental identity of the two goddesses is clearly revealed upon consideration of their respective epithets and characteristics. AsInanna/Venus was invoked as the 'Lady of the Evening' or as the 'Evening Star,' so too is Hathorinvoked as 'Lady of the Evening." As Inanna/Venusis said to 'rise' from the horizon, so too is it said that 'Hathor rises within the horizon.' As Inannawas depicted 'rising' between the two gates of heaven, so too was it said of the Egyptian goddess: '[The gates?] of the horizon [are thrown open(?)] for Hathor.' As Inanna was said to reside on the mountain of heaven, so too does Hathor live upon the 'mountain of the west,' the latter described as a celestial mount on which the ancient sun-god was wont to retire at night. Early illustrations of Hathor on the 'mountain of the west' from the Book of the Dead show the cow-headed goddess with her familiar menat-symbol (see figure one), the latter of which shows an eight-pointed star set on a disc, a striking analogue to Inanna's star … Like Hathor, Inannawas likened to a cow in early Sumerian literature, one hymn invoking her as 'the great cow among the gods of heaven and earth.' As Inanna inspired terror as a fire-spewing dragon, so too did Hathorin the form of the uraeus serpent. Thus, a hymn at Philae invokes Hathor as 'the Great One shining on the brow of her father, the glorious one who causes fear of her father.' Other hymns describe the Egyptian goddess as a fiery serpent raging in the sky …"[55]
In Kemetic mythology, the Goddess Wosret[Hathor] (Het-Heru – "the House of Horus") is aGreat Queen of antiquity. She was known as "the Great One of Many Names" and her titles and attributes are so numerous that she was important in every area of the life and death of the people of Kemet.[56] Hathor personifies the principles of love, beauty, music, dance, motherhood and joy.[57]
Goddess Hathor (Earth Mother)[58] is an extremely important and popular fertility goddess, associated with the cow. Her name refers to her position as the celestial cow which encircles the sky and hawk god, Horus. She was also a goddess of royalty and since the pharaohs were seen as related to Horus, she was seen as the divine mother of the reigning pharaoh.[59]
In the Great BEAST'S poetic work, Tannhauser, she is one of the characters that is of the "World of the Gods." Therein she has merely one line: "Light, Truth, arise, arise!" In this work she is seen as being synonymous with Aphrodite and Mary.Venus is seen as being the "Evil and AverseHATHOOR" of the "World of Demons."[60]
Whether it is Nin-imma or Nin-anna, Yoncé's Inna– Satanic patron goddess is associated with the Sumerian Creation God ENKI and both goddesses are synonymous with WORSET [Hathor], the GreatBEAST's Hathoor. In Yoncé and Satanic Jay'sDrunk in Love, Inna-NIN-IMMA/NIN-ANNA- HATHOOR bring it right.
Reverend Boy– the Great BEAST 666, Aleister Crowley
Drunk in Love: "If you scared, call that reverendBoy…"
"Do What Thou Wilt" – Aleister Crowley
Reverend Boy- unlike being an ordained minister, for instance, a Reverend of the Church of Satan is who is revered by the believers or Satanists- while a priest or minister is one who dedicates their life to preaching religion to others.[61]Basically, Drunk in Love, recounts one of the Great BEAST's continuous Satanic Tantra-Sex Magick Ritual sometimes referred to as theBabalon Workings that involves Crowley's satanic philosophies, and Demoness Scarlet Women.[62]
The sex ritual may involve days or weeks at a time fueled by drugs, alcohol and altered states of consciousness. "Most of Crowley's adult life was dedicated to indulging in everything he believed God would hate: performing sex magic, taking heroin, opium, hashish, peyote and cocaine, invoking spirits, and even once offering himself to the Russian authorities to help destroy Christianity. He wrote volumes of books that he believed were dictated to him by a spirit from ancient Egypt called Aiwass.
"To worship me take wine and strange drugs," the spirit conveniently told him. "LUST, enjoy all things of sense and rapture. Fear not that any God shall deny thee for this." …[63]
Beyonce's lyrics in the song, "We be all night, and everything alright … No complaints for my body…"supports the notion that it involves the Great BEAST's Sex Magick Ritualistic extreme practice of LUST and pushing the human body to its extreme maximum point of exhaustion to reach higher a level of alter consciousness in tune with demonic spirits and deities such as NIN-IMMA- HATHOOR..
"Crowley's sex rituals involving the consumption of blood, semen, or feces were allegedly intended to achieve a higher consciousness to empower atalisman, or to simply empower ones self. Intense focuses on the intended result during the ritual, especially during orgasm, were paramount to achieving the desired goal in Sex Magick. Crowleysaw in orgasm (as in drug experience) a means to create 'breakage of consciousness' by pushing the mind to a point of extreme exhaustion and so opening it the "supersensual.' The technique… was that of excess; through pain or pleasure, sex or intoxication, it was necessary to attain a condition of exhaustion taken to the extreme limit."[64]
SEX MAGICK/BABALON WORKINGS & THE NECRONOMICON KUNDALINI EXPERIENCE
In about 1586, Dr. John Dee translated a secret satanic book of antiquity from Greek calledNecronomicon. The original Arabic title of the work was "Kitab al Azif" which can roughly translated as "The Book of the Howlings of the Desert Jinn [Demons]. The Latin version of the name, "Necronomicon" retains to the customs, practices, or laws of the dead.[65]
To the believers, the Necronomicon is a very powerful textbook that is recognized by Satan and Demons as an allegorical guide that reveals secret, ancient and powerful knowledge from antiquity. It is a work that is denied by many and claimed not to exist. The true purpose of theNecronomicon is to serve as a textbook of magic for the opening the soul. "Leviathan"/ "Cthulhu,"are names for the Serpent Kundalini "who lies sleeping and dreaming." "Narayana" probably one of the most ancient names for Cthulhu is also seen in the East Indian Hindu "Mahabharata"which is thousands of years old.[66]
Aleister Crowley was a direct, vivid and remarkable student of Dr. Dee and Edward Kelley incarnated.Crowley is associated with authoring a Latin version of Necronomicon, it would have been naturally a secret translation of Dr. Dee's 1586 original version from Greek. The 21st Century version of the Necronomicon Kundalini experience is the awakening and release of the sleeping coiled snake within.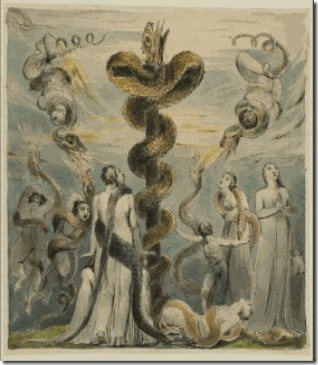 The "serpent power", once awakened, is coaxed up the central channel of the spine, entering the chakras (psychic energy centres) until it reaches the Crown chakra- and yogi achieves"ILLUMINATION".[67]
Crowley's secret Sex Magick Rituals (Cosmic Fallen Angelic Sex Practices) awakens and release the sleeping snake (Secret Fire) within that is the Necronomicon Kundalini Experiencetaken from the Ancient Necronomicon- The Book of the Howlings of the Desert Demons. Crowleystates that the 24th Path is attributed to theGoddess Kundalini in 777.[68]
And because I tell you the truth, ye believe me not.
Necronomicon Kundalini Experience – Release the Sleeping Snake, the Secret Fire
Necronomicon Kundalini Experience- Beyonce, the Secret Fire & the Coiled Snake 
Necronomicon Kundalini- Worship of Snakes- Stylized Inanna Star Symbol
One of the Great BEAST's Scarlet Women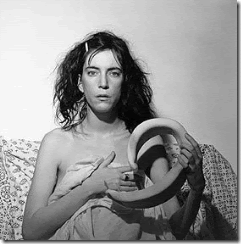 Drunk in Love & the Mysterious Watermelon Reference
Watermelons Fit for Kings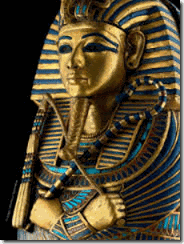 "Never tired, never tired
I been sippin', that's the only thing
That's keeping me on fire, me on fire …
I've been drinking, WATERMELON …"[69]
Yoncé and Satanic Jay's Drunk in Love has a very curious reference to drinking WATERMELON, above, as part of ritual ceremonies of the Sex Magick/Babalon Workings.
Needless to say, Watermelons have become an offensive stereotypical object of ridicule and humiliation to the Black masses. My first inclination was to just dismiss it as random. However, if it part of the secret ritual revealed by them, then the veil over it has to lifted to expose its secret history, its magical, mystical and sacred properties.
Watermelon is mentioned in the Bible as a food eaten by the ancient Israelites while they were inKemet. By the 10th century, watermelons were being cultivated in China. By the 13th Century, the Moors introduced the fruit to Europe; according to John Mariani's Dictionary of American Food and Drink, "watermelon" made its first appearance in an English dictionary in 1615.[70] Technically, thewatermelon is actually not a true melon, but an rather unique berry of the genus Citrullus. It is an old and very ancient fruit. On the basis of chloroplast DNA investigations that the cultivated and wild watermelon diverged independently from a common ancestor, possibly C. ecirrhosus from Namibia.[71]
Evidence of its cultivation in the Nile Valley can be traced back to its pre- dynastic period and throughout the Great Pyramid Age, Twelfth Dynasty of the Great Sen-Wos-Ret to the tomb ofPharaoh Tutankhamun, and thereafter.[72] TheCitrullus was indeed a sacred plant. During the Twentieth Dynasty of the Ramseside Age (1187 to 1064 BC), the Great Rameses II's High PriestNibsoni was discovered buried with the leaves of the Citrullus scattered between his mummy and the sides of his coffin.[73]
Undoubtedly, King Tut and many pharaohs, queens and high priests believed that the Citrullusheld some unseen-unknown secret mystical and sacred properties for use of it even in the afterlife.[74] There appears to have been a sacred tradition among the pharaohs and high priests of Kemetthat the Citrullus plant and seeds had been necessary to aid the soul and the spirit in transition to the stars.
Watermelons are 80-90% water, their element. The watermelon is associated with many properties related to the liquid element, including purification, healing and changes. Bewitching secret,"Watermelons are a change oriented magical plant, lying somewhere between a vegetable and a fruit and can help you cross boundaries by cleansing your body and soul to prepare you for what's to come."[75]
In the great land of tens of thousands of years,Citrullus plant and its seeds possessed spiritual/mystical properties necessary to aid the soul and the spirit in the transition to the stars. Throughout the ages, covens of witches, sorcerers, magicians and Satanists have stolen the legacy of the people of Kemet and perverted its secrets and sacred sciences for their own pride, good, glory; and the cult of deception.
In Conclusion
John 8:44
King James Version (KJV)
44 Ye are of your father the devil, and the lusts of your father ye will do. He was a murderer from the beginning, and abode not in the truth, because there is no truth in him. When he speaketh a lie, he speaketh of his own: for he is a liar, and the father of it.
As pointed out above, Beyonce, Satanic Jay, Lil Wayne, Bruno Mars and most of the current black entertainment industry don't sing songs for you.The ILLUMINATI promotes things like Satanism, sexual freedom- Tantric Sex Magick, drugs, homosexuality, feminism and other "anti-family" values as diversions, and interfere and destroy critical thinking among the masses. It is also designed to destroy and compound the traditional and religious values of the masses to make it easier to control them; and discourage real dissent, opposition and resistance to the global rule of an all- powerful self-appointed Olympians (Divine Gods), and the New World Order.
Ephesians 6:12
King James Version (KJV)
12 For we wrestle not against flesh and blood, but against principalities, against powers, against the rulers of the darkness of this world, against spiritual wickedness in high places.
About a decade or more ago, I was informed by a black female CIA/FBI secret informant that theBlack Expo in Oakland was beginning a workshop in Tantric Sex for Black people, and offered that I might want to attend. I had known her for years, but I had recently finally figured out who she really was. I asked her what patron demons or spiritsthat they planned to conjure up for Black folk. She looked at me for a moment in silence, than changed the subject until she could just ease away. Infiltration of the Black Community withAleister Crowley's Satanic Tantric-Sex Magick as a diversion and opium for the masses has been on the ILLUMINATI'S agenda for quite sometime.
The music and movie industries have been ordered to do their part by promoting theILLUMINATI's mass population control agenda as well. In addition to promoting evil versus good values, they also implant and dominate the popular and black entertainment industry with complex Satanic and ILLUMINATI symbolism to confuse the masses.
Stolen Legacy, by George G. M. James, [1954]
Among mankind and history of civilization, the earliest theory of salvation is the Egyptian theory. The Egyptian [Kemetic] Mystery System had as its most important object, the deification of man, and taught that the soul of man if liberated from its bodily fetters, could enable him to become godlike and see the Gods in this life and attain the beatific vision and hold communion with the Immortals(Ancient Mysteries, C. H. Vail, P. 25).[1]
They don't sing songs for us. The Kemetic theory of "Music (or Harmony) meant the living practice of philosophy i.e., the adjustment of human life into harmony with God, until the personal soul became identified with God, when it would hear and participate in the music of the spheres. It was therapeutic, and was used by the Egyptian Priests in the cure of diseases. Such was the Egyptian theory of salvation, through which the individual was trained to become godlike while on earth, and at the same time qualified for everlasting happiness. This was accomplished through the efforts of the individual, through the cultivation of the Arts and Sciences on the one hand, and a life of virtue on the other. There was no mediator between man and his salvation, as we find in the Christian theory."
The adjustment of our lives into harmony withGod, until the personal soul becomes identified with God doesn't need the mediation of the GreatBEAST. Reaching Human Perfection andIllumination through Satan/LUCIFER– Sex Magick,drugs, alcohol, talisman and a scarlet woman is a deception and diversion.
There is no doubt that both Michael Jackson andWhitney Houston's had become ILLUMINATI and a slave to their father, LUCIFER.
However, I sincerely believe that Donny Hathawayfought and resisted the ILLUMINATI until he was thrown from the window of his 15th story hotel room to his death to stop his melodies andharmonies to the masses. When Michael Jacksonand Whitney Houston found the power and courage to resist, they were also murdered. During her struggles with CIA/MK ULTRA electronic harassment, drugging and mind control, she found the inspiration to resist if only for a moment to sing Donny's spiritual and therapeutic-soothing melody to the world, "A Song for You." I sincerely believe like many other artists this is what she started out to do and what she really wanted do with her life and career.
---
[1] http://www.nowtheendbegins.com/blog/?p=16233
[2] http://www.touregypt.net/featurestories/gold.htm
[3] http://www.whale.to/c/biggest_secret_15.html
[4] http://www.metrolyrics.com/locked-out-of-heaven-lyrics-bruno-mars.html
[5] http://en.wikipedia.org/wiki/Lucifer#cite_note-30
[6] http://tracytwyman.com/grammys-superbowl-12-time-two-sex-magick-rituals-that-go-together/
[7] http://uncyclopedia.wikia.com/wiki/Aleister_Crowley
[8] http://www.directlyrics.com/beyonce-drunk-love-lyrics.html
[9] http://en.wikipedia.org/wiki/Prince_Hall_Freemasonry
[10] http://en.wikipedia.org/wiki/Prince_Edward,_Duke_of_Kent
[11] http://www.pseudoreality.org/committeeof300.html
[12] http://secretsocietymembers.com/committee-of-300/
[13] http://lost-history.com/mysteries.php
[14] http://www.crystalinks.com/dynasty12.html
[15] http://www.africaresource.com/rasta/sesostris-the-great-the-egyptian-hercules/sesostris-the-great-the-egyptian-hercules/
[16] http://www.paganizingfaithofyeshua.freeservers.com/no_3_dionysis.htm
[17] https://sites.google.com/site/fakeapoc/home/satanism-node/aleister-crowley-just-another-diabolical-british-agent
[18] http://rense.com/general82/crowl.htm
[19] http://en.wikipedia.org/wiki/Committee_of_300
[20] http://www.thirdworldtraveler.com/New_World_Order/Committee_of_300.html
[21] http://seeker401.wordpress.com/2013/08/07/royal-baby-revealed-to-be-23rd-cousin-twice-removed-with-beyonce-and-jay-zs-daughter/
[22] http://www.news.com.au/entertainment/celebrity-life/beyonce-turns-into-queen-elizabeth-1/story-e6frfmqr-1226187153292
[23] http://www.maatmedia.com/Media/mediopoly_04.html
[24] http://childrenofarthur.wordpress.com/tag/arthurian-costume-party/
[25] http://en.wikipedia.org/wiki/Morgan_le_Fay
[26] http://www.arthurian-legend.com/more-about/more-about-arthur-8.php
[27] http://gardenofthewitch.wordpress.com/stories-and-lit/witches-morgan-le-fay/
[28] http://trace.tennessee.edu/cgi/viewcontent.cgi?article=1032&context=utk_graddiss
[29] http://en.wikipedia.org/wiki/Enochian_magic
[30] http://en.wikipedia.org/wiki/Enochian_magick
[31] http://en.wikipedia.org/wiki/John_Dee
[32] http://en.wikipedia.org/wiki/Enochian
[33] http://home.earthlink.net/~xristos/GoldenDawn/enochian.htm
[34] http://www.crystalinks.com/mirrorscrying.html
[35] http://www.redicecreations.com/specialreports/2005/09sep/johndee.html
[37] http://en.wikipedia.org/wiki/Talisman
[38] http://www.skepticfiles.org/mys5/magick02.htm
[39] http://www.angelfire.com/empire/serpentis666/Sex_Magick.html
[40] http://mysteriousuniverse.org/2013/06/modern-porn-mimics-aleister-crowleys-sex-magick-philosophies/
[41] http://www.angelfire.com/empire/serpentis666/Ritual.html
[42] http://en.wikipedia.org/wiki/Babalon
[43] http://en.wikipedia.org/wiki/Drunk_in_Love#cite_ref-vegas_17-0
[44] http://www.theforbiddenknowledge.com/symbology/5o5.htm
[45] http://www.metrolyrics.com/drunk-in-love-lyrics-beyonce.html
[46] http://www.metrolyrics.com/drunk-in-love-lyrics-beyonce.html
[47] http://www.indiachildnames.com/name.aspx?name=Inna
[48] http://en.wikipedia.org/wiki/Venkateswara
[49] Pinkham, Mark Amaru, Guardians of the Holy Grail, The Knights Templar, John the Baptist and Water of Life, Adventures Unlimited (2004), pg. 159
[50] http://en.wikipedia.org/wiki/Nin-imma
[51] http://en.wikipedia.org/wiki/Inanna
[52] http://www.bibliotecapleyades.net/sitchin/esp_sitchin_0.htm
[53] http://www.princeton.edu/~achaney/tmve/wiki100k/docs/Ninhursag.html
[54] http://www.grahamhancock.com/phorum/read.php?f=1&i=254408&t=253853
[55] http://www.maverickscience.com/hathor.pdf
[56] http://ancientegyptonline.co.uk/hathor.html
[57] http://www.crystalinks.com/hathor.html
[58] http://www.experience-ancient-egypt.com/hathor.html
[59] http://thelemapedia.org/index.php/Hathor
[60]http://thelemapedia.org/index.php/Hathor
[61] http://marilynmansonweb.yaia.com/biography.html
[62] http://en.wikipedia.org/wiki/Babalon_Working
[63] http://www.jesus-is-savior.com/False%20Religions/Wicca%20&%20Witchcraft/aleister_crowley.htm
[64] http://mysteriousuniverse.org/2013/06/modern-porn-mimics-aleister-crowleys-sex-magick-philosophies/
[65] http://www.angelfire.com/empire/serpentis666/Necronomicon.html
[66] http://www.angelfire.com/empire/serpentis666/Necronomicon.html
[67] http://www.philhine.org.uk/writings/tt_kapa.html
[68] http://hermetic.com/stavish/essays/secret-fire.html
[69] http://www.metrolyrics.com/drunk-in-love-lyrics-beyonce.html
[70] http://en.wikipedia.org/wiki/Watermelon
[71] http://en.wikipedia.org/wiki/Watermelon
[72]http://www.academia.edu/4467805/An_archaeobotanical_contribution_to_the_history_of_watermelon_Citrullus_lanatus_Thunb._Mats._and_Nakai_syn._C._vulgaris_Schrad._
[73] Lockyer, Sir Norman, Nature: International Journal of Science, Vol. 28, Nebu Press (2012), pg. 113
…